Pakistani students shun Salman Taseer; tell him to stop anti-Pakistan campaign
Pakistani Law Students today have done what the our elected members of National Assembly and the those in lucrative government offices have been unable to do so far: condemn Salman Taseer on his anti-Pakistan activities.

The governor, who is also chancellor of the varsity, was the chief guest at its first convocation held here on Monday. Students of University of Sargodha were invited to receive their diplomas from the Governor. But instead of sucking up to the governor, like many do, the students had in mind the anti-Pakistan statements and activities of Salman Taseer.
The governor and his huge entourage were expecting a warm welcome as funds had been distributed in this regard. But to their surprise the students refused to accept their degrees from Governor Salman Taseer. Their message was clear: stop anti-Pakistan and anti-judiciary activities as they will not be tolerated by the people of Pakistan.
The law students boycotted the convocation proceedings, while a group of lawyers staged a sit-in in front of the varsity's main gate to express solidarity with them.
The lawyers chanted slogans against the governor who, according to them, used derogatory language against the patriotic legal fraternity of Pakistan. They also marched from the district bar to university campus carrying placards and banners inscribed with slogans against the governor and President Asif Ali Zardari.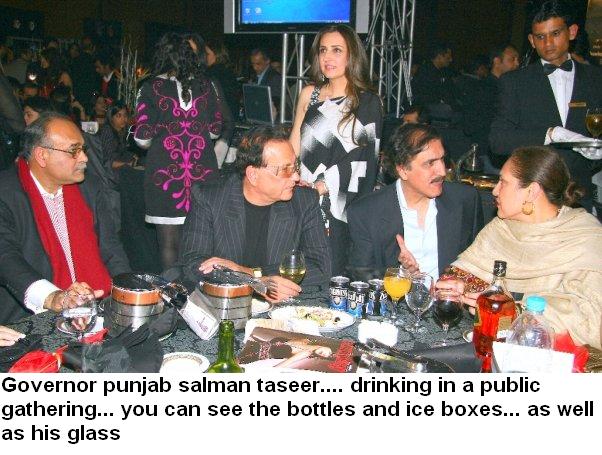 The whiskey ridden Taseer did not quite comprehend what hit him. While he, like always, had covered his eyes, the shock in them could be seen from miles.
The unfortunate part is that none of the 80 or so Pakistani news channels highlighted the incident. Why did we allow private Pakistani channels in the first place? Why did we fight for freedom of media from Musharraf? Wasn't it to project the demands of Pakistanis? If this was the Indian media, if this was the Chinese media, if this was the Iranian media, if this was the Arab media, if this was Turkish media, this incident would have been repeated at the top of every news bulletin for the day.
Not only did Salman Taseer's Chamcha Times or Business Plus did not cover it but neither did any of the free channels. Is this the freedom of media Sherry Rehman boasts about?
I hope some of the defeatist 'liberal' Pakistanis working for television news channels might be reading this. If you know someone there, please admonish them. We need to make sure the voice of Pakistanis is heard.
It is sad that ordinary Pakistanis will always be more nationalist and patriotic than their so-called 'liberal' intellectuals and their non-intellectual politicians. Only Dawn covered part of the story which can be seen here.
But students of Sargodha Law College, no matter what, we are proud of you. Chief Justice Iftikhar Chaudhry, you are moments away from restoration.
___________________________________________
Source: Emergency mailing list
Emergency@lists.hcs.harvard.edu
http://lists.hcs.harvard.edu/mailman/listinfo/emergency